Breast Augmentations are performed to enhance the appearance, size and contour of a womans breast. Women consider breast augmentations for different reasons. Some women feel their breasts are too small while some are unhappy with the shape of their breasts after pregnancy. Others wish to correct an asymmetry in breast size. Whatever the reason may be, Dr. Haupt's goal is to create the most natural looking result as possible. In most cases, Dr. Haupt recommends using a cohesive silicone gel implant but saline implants are always an option. The size of a breast implant is determined by the patients body frame, measurements and their post op expectations.
How many women have felt less feminine because they weren't born with the breasts to complement their body type? Having a breast augmentation can help boost self-confidence and eliminate anxiety about body image*. Breast augmentation is one of the most common cosmetic surgery procedures performed each year*. Breast augmentation can correct under developed breast, breast that have lost shape and volume after child birth or weight loss, and correct asymmetry and position of the breasts*.
Breast augmentation is based on two factors – the patient's body shape and their goals. These are very subjective factors, everyone is different which is why we recommend that you come in for a consultation.
There are a variety of ways breast implants, whether saline or silicone, can be inserted into the body. This is determined by your personal preference, body type, and Dr. Haupt's recommendations. While each type of insertion technique works well, certain types are better in certain situations – please see Surgical Methods for more information.
Scarring occurs with every surgery but is always our top priority. Dr. Haupt understands that scarring is a concern for most women when considering breast augmentation surgery, therefore, the smallest scar possible is utilized. Most scars are hard to detect with time, and rarely do we ever have to perform a scar revision. See Breast Augmentation Methods for more information.
The end result of your Breast Augmentation is largely determined by your body type and your expectations. Please see Choosing an Implant size for more information.
On November 17, 2006, the FDA lifted its restrictions on the use of silicone gel implants, approving them for women of all ages.
BREAST AUGMENTATION METHODS
All breast augmentation procedures involve the insertion of an implant through an incision. There are three possible locations for the incision:
The type of incision you receive is based on your personal preference and the type of implant you choose. Each type of incision results in a different type and size of scar, although, in most cases, the scar is often very small and inconspicuous. For breast augmentation procedures involving silicone gel breast implants, Dr. Haupt prefers the inframammory incision along with the use of the Keller Funnel. The Keller Funnel allows for the use of a smaller incision and an easier insertion of all implant sizes with no contact of the breast implant with the patients skin.
There are also options regarding where the breast implant will be placed – either above or below the muscle. Based on your body type and implant choice, we will help you determine what option is best for you.
This is what we specialize in! The size of the implant must always be relative to your height, weight, and body frame. These factors are determined by a physical examination by Dr. Haupt and trying different implants on during your initial consultation. We also offer our 3D breast imaging to all of our surgery patients. The simulator captures a 3D image of your body and allows you to view different implant sizes and shapes side by side. You can see the possibilities and decide what implant is right for you.
SALINE vs SILICONE IMPLANTS
Both saline and silicone implants have an outer silicone shell. However, the implants differ in material and consistency. Saline implants are filled with sterile salt water after they have been placed in the body. Should the implant leak, a sline implant will collapse and the saline will be absorbed into the body. Saline implants are FDA approved for augmentation in women age 18 and older. Silicone, on the other hand, is pre filled with a silicone gel. If the implant ruptures, the gel remains within the implant shell. A ruptured implant filled with silicone willl not collapse. Silicone implants are FDA approved for augmentation in women of all ages. Dr. Haupt is one of Utah's best breast augmentation surgeons. Contact us today to find out how we can help you get the results you want!
Whether you choose saline or silicone implants, it is important for you to monitor your breast implants and follow up with Dr.Haupt for appropriate check ups.
Softer Feel
More Natural Look
Less Rippling
More Stable
Lower Rupture Rate
Higher Cost
Length of Scar is Longer
Silent Rupture
Lower Cost
Length of Scar is Shorter
Visible Rupture
Feels Firmer
Less Natural Look
More Rippling
More Likely to Displace
SALINE vs SILICONE IMPLANTS
In the last few years, the FDA Approved "teardrop" breast implants. These new silicone-fill breast implants approved by the FDA in early 2013 provide breast augmentation for patients seeking a more natural look rather than traditional round implants. Also, commonly referred to as the "gummy bear" implant, the structure of the silicone gel gives some patients a more natural shape. While the teardrop implants provide a more anatomical shape, it requires a skilled surgeon to place them correctly. Proper placement requires the implant to be texturize so that it adheres in the breast tissue pocket accurately and doesn't shift or rotate. Dr. Haupt is one of the first surgeons in Utah to offer these implants.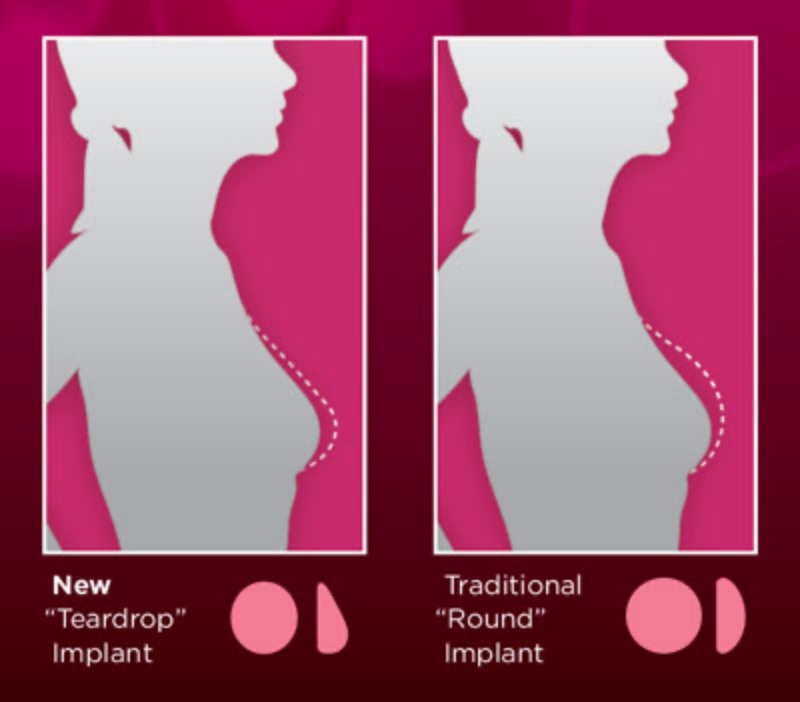 Interested In Seeing Results From Our Clients?
View Our Gallery to See Before and After Results.