Ultherapy is the first FDA approved non-invasive skin tightening treatment that reaches the deep tissues of the face. In clinical evaluation at Northwestern University, subjects exhibited clinically significant, aesthetically pleasing lift of the brow line after just one treatment.
Helps reduce the droopiness or tired look
No down time
FDA approved
No scars
Recently seen on "The Doctors" TV show
First and only non-invasive deep tissue tightener
You'll be out in the public the same day
For the first time ever, Ultherapy directs sound waves not only into the skin but deep under the skin to the same tissue addressed in surgery. This gently heats the tissue to lift and tighten loose skin without cutting or disrupting the surface of the skin. Besides the visible effects of lifting and tightening, there is also an invisible result from Ultherapy with the creation of new collagen, which helps the skin maintain its youthfulness.
*Ultherapy lifts, tightens, and tones loose skin to counteract the effects of time and gravity. One of the first effects of gravity is that the brows descend, and the eyes start to appear smaller. Ultherapy will lift the brow, which in turn reduces the excess skin on the lids, opens up the eyes and gives a more refreshed appearance. When the skin on the cheeks and neck begins to shift downward, the result is a change in the contour of the lower face. Ultherapy can lift and tighten the sagging skin on the cheeks and neck to give a younger, slimmer look.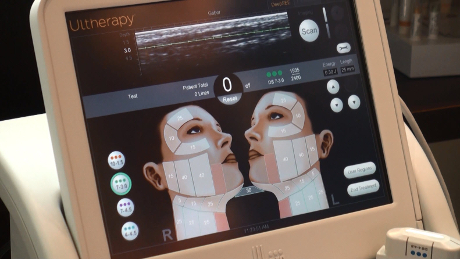 "When I reviewed respected surgeons' work on the new Ulthera, I was excited. So I had Ulthera perform the procedure on myself and I've been pleasantly surprised with the skin tightening results I achieved. We purchased Ulthera to make available a quick and easy face tightener to people in Utah. So many patients tell me they want even modest results with no down time or invasive surgery. This is the best option I have seen so far as it tightens at two levels. The skin and the deeper fascia/muscle layer that is tightened during a facelift."
– Dr. Scott Haupt, MD, Board Certified Plastic Surgeon

Interested In Seeing Results From Our Clients?
View Our Gallery to See Before and After Results.