Natural looking and noticeable results, the beauty of Ultherapy.
Ultherapy is non-invasive, microfocused ultrasound energy. For those who are not ready for a surgical facelift, Ultherapy provides proven results in a single treatment for most patients. Learn how to treat your loose skin without surgery, without impacting the surface of your skin, and without downtime!
During the procedure, microfocused ultrasound energy is directed deep below your skin's surface to initiate your body's natural repair process. This stimulates the production of resilient, new collagen for a natural looking lift.
Your results may improve over the course of three to six months, and your fresher look can last a year or longer. Responsiveness varies from patient to patient, depending on how much skin laxity they have and their body's own biological response to the ultrasound and collagen-building process. Some patients may benefit from more than one treatment. Follow-up Ultherapy treatments each year may help maintain these results.
Treating the Face and Neck
Ultherapy is a Collagen Creator
After a face and neck treatment, patients commonly report some lifting and tightening of lines. While the immediate "plumping effect" can be temporary, collagen generation is underway. Over the next two to three months, skin lifting on the brow, neck and under the chin will continue to improve. Some patients may continue to see improvements up to six months or more after a procedure.
After a single treatment, the collagen building process has begun and smoothing of lines and wrinkles may be noticeable within 90 days. You may see improvements up to six months or longer after the procedure.
Data from a unique Ultherapy study, in which patients received Ultherapy treatment on only one side of the face, demonstrated an average 1.4 times increase in the rate of collagen production in treated area vs. untreated. The rate of production for collagen types I and III-those types closely associated with the effects of aging-increased 42% in the side treated with Ultherapy.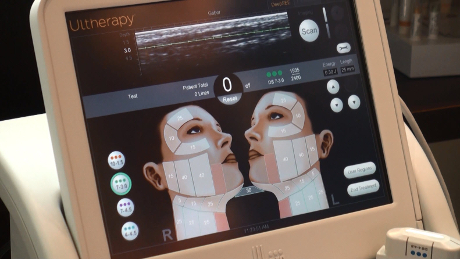 "When I reviewed respected surgeons' work on the new Ulthera, I was excited. So I had Ulthera perform the procedure on myself and I've been pleasantly surprised with the skin tightening results I achieved. We purchased Ulthera to make available a quick and easy face tightener to people in Utah. So many patients tell me they want even modest results with no down time or invasive surgery. This is the best option I have seen so far as it tightens at two levels. The skin and the deeper fascia/muscle layer that is tightened during a facelift."
– Dr. Scott Haupt, MD, Board Certified Plastic Surgeon

Interested In Seeing Results From Our Clients?
View Our Gallery to See Before and After Results.